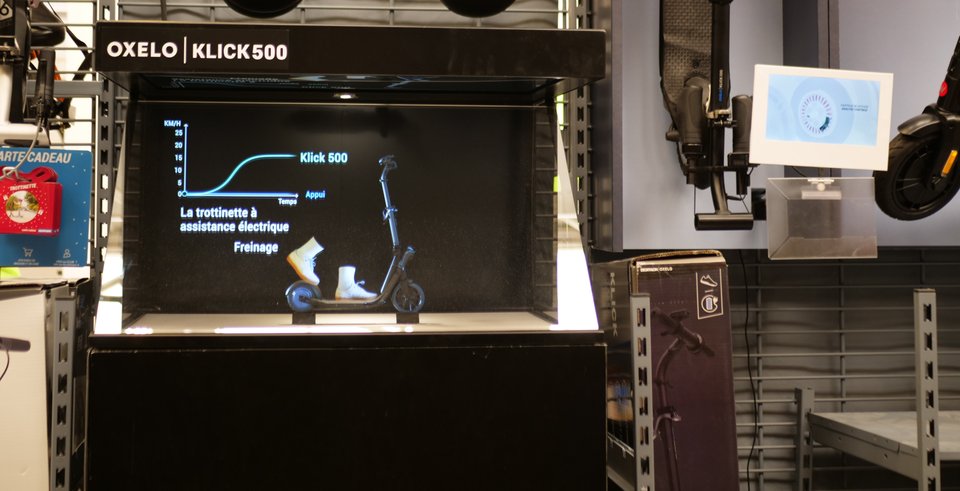 Klick500
At the B'Twin Village store, the new scooter from Oxelo, a Décathlon brand, is presented in details on a new innovative holographic showcase.
The holographic mapping is a kind of augmented reality. It provides a brand new experience for product presentation by mixing 3D printed models or real products with 3D images or real footages. You can use this technology to demonstrate the product's strenghts and enable the customer to project himself in its daily use.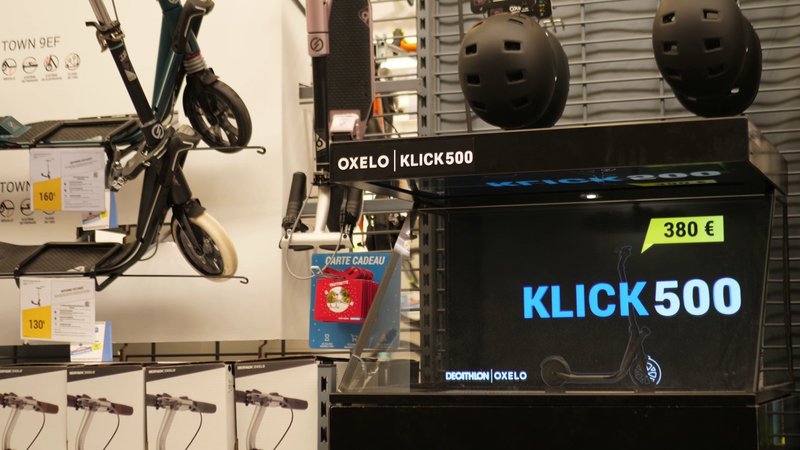 Installation at the B'Twin Village in Lille, northern France
A design and marketing project
To achieve this result, an ambitious work of innovation was carried out with the Oxelo teams to imagine and produce this holographic reconstruction.
The scenerio unfold in 3 parts:
A technical presentation of the product, with an exploded view of its parts and technical details.
A presentation by one of its designers on its handling and design
A presentation of its use, with a ride simulation
An innovative showcase
This collaboration made it possible to directly involve the Oxelo teams, who appear in holograms for the presentation of the Klick500. The innovation services were involved as well for the 3D printing of the scooter as a scale model thanks to the product CAD.
This hologram required precise work to correctly position the holographic mapping on the mock-up and inlay the images taken in real life on the Klick500.
Build to be shown around
This holographic display is a Iris32. A sturdy and mobile hologram generator that is brought to circulate throughout France in the various Décathlon shops selling the Klick500 scooter.