Holusion at the H'Expo congress
Edelis and Perraudin
Presentation of a new real estate project
During the week of September 26-29, the H'Expo congress was held in Lyon. This major meeting of social housing professionals brought together more than 350 exhibitors. To stand out some of them decided to opt for holographic technology to present their projects.
It is for this purpose that Edelis, subsidiary of GCC decided to call Holusion. We worked with them on this ambitious new stone project with many green spaces.
We were able to bring the holographic model of this building to life by collaborating with Edelis, GCC and the architect Perraudin. This hologram was exposed on the show thanks to the use of a Iris 32 Holusion terminal , Made in France.
Thanks to the work around BIM and Smart City. The hologram is able to integrate the project in its neighborhood through GIS data, to make a realistic presentation of materials and to present the typologies of apartments or offices.
I3F and Croixmariebourdon
Conversion of an office building into housing
Using a hologram at a trade show is a good way to stand out. In addition to offering a more flexible and less expensive alternative to physical models, it also gives an innovative aspect to the projects presented in this way.
The project of redevelopment of offices into housing in the city of Pantin by Croixmariebourdon architectes associés et Immobilière 3F was able to take advantage of these holographic display benefits as part of their presence at the Architect's Village to showcase a digital version of their original 2019 competition model.
The use of BIM on this project allowed for a full animation well beyond the original model and to present comparisons between the facades and fixtures before and after the works.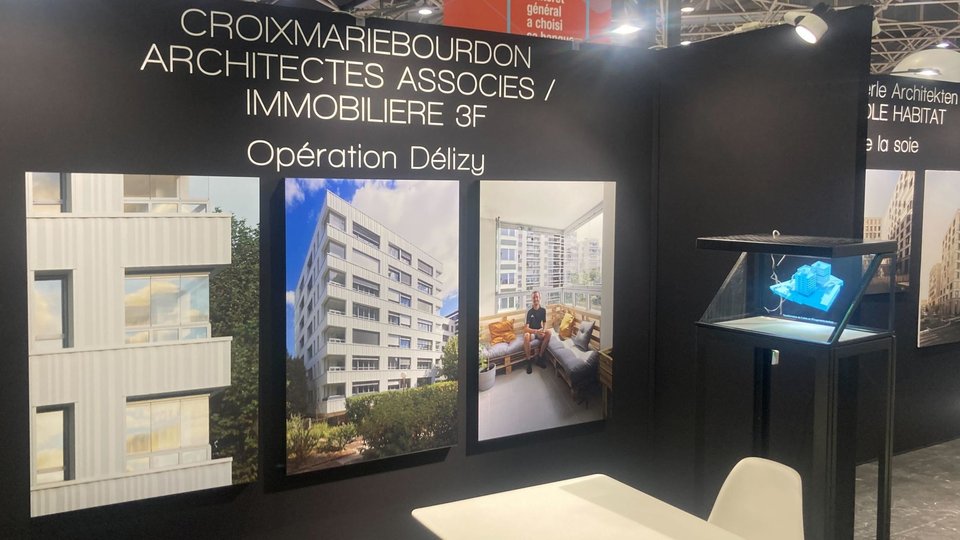 Holographic presence on events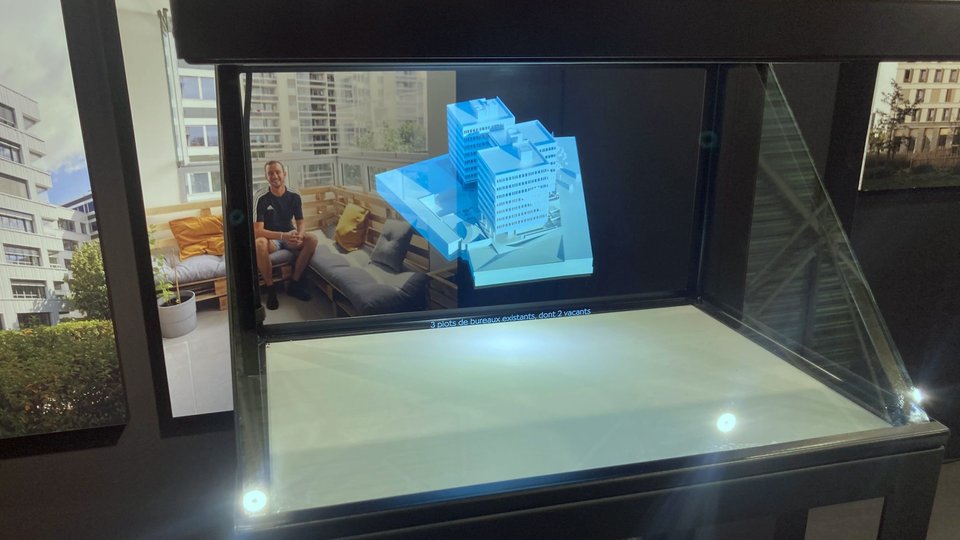 Holographic displays offer many possibilities for their use at exhibitions.
The different sizes of holographic displays offer different solutions depending on the size of the stands and the space available on it.
It's also possible to create interactivity at a booth with interactive apps that allow you to present a project in various ways.
The holographic display makes it possible to present real estate projects from every angle.
It is thus possible to put forward sketches of buildings or the various internal networks thanks to the BIM files which we can exploit in order to show all the specificities which compose the project.