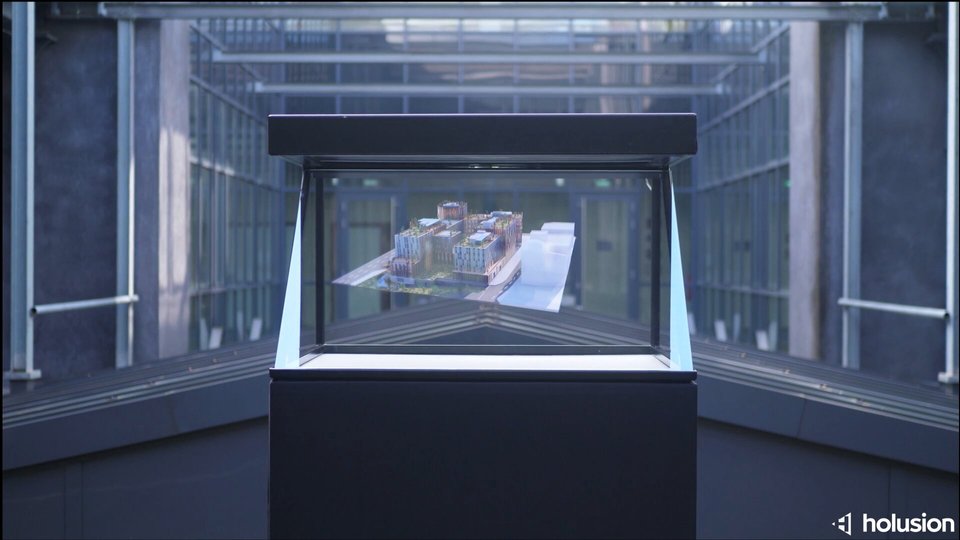 Holographic application for BIM and building models
For several years, Holusion has been working hand in hand with the real estate industry to holographically present models of buildings.The hologram is a digital tool for the presentation of projects.
A holographic display can contain many very detailed and interactive models. Switching to a digital medium makes them easy to handle, update or replace.
We have designed this solutions with the support and feedback of major real estate and construction companies and experts in the field. We invite you to discover all that they can bring you here.
One of our main strengths is that all content is created from the BIM or 3D files of the project. This allows us to have a very high accuracy on the restitution and to accelerate the process of 3D content creation.
Interactive holographic models for Real-Estate
There are many opportunities to present a hologram model:
Laying the foundation stone
Building grand opening
Interactive display on the developer's point of sale
And many others
It is an innovative tool that captures attention and gives substance to the 3D model.
Discover an overview of everything the hologram can do for you on video:
Features
So, the hologram can tell you a lot about a building. It allows you to show a rotating view of your building to see its architecture, its location in a neighborhood. It offers an aesthetic presentation, with day or night views to highlight its lighting and design. You can also see its capacities and its use, by displaying its programmatic mix and its layout.
The holographic content follows the business strategy as closely as possible to illustrate and support it. This is done right down to the last detail and finishing touches, with the possibility of flaying the interior of the rooms - for example apartments for private individuals - so that the future investor can really project himself into his property.
The connection to the technical files of the BIM also gives the opportunity to make technical assessments on networks, environmental and energy properties or to highlight a particular know-how in construction.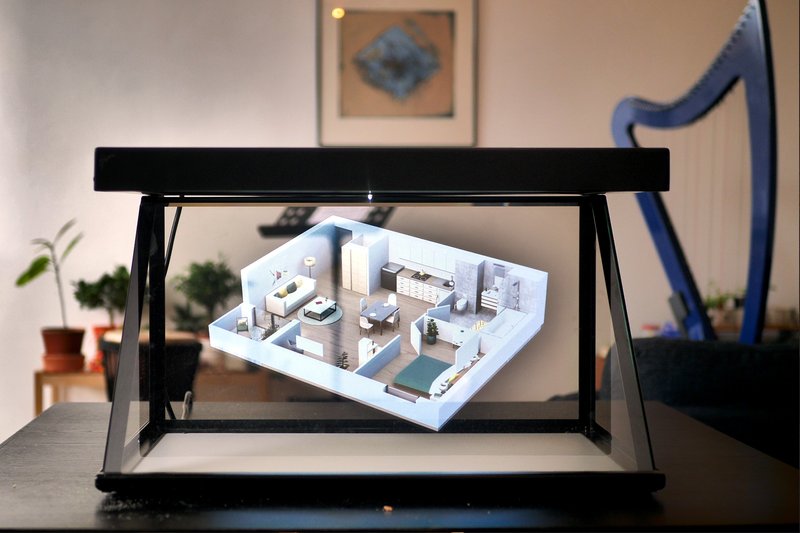 Interaction with the hologram
The interest of a holographic model also lies in the interaction with the user, involving him/her even more in the discovery of the building. From the handling of the hologram rotation to real time, the possibilities are numerous.
The support for this interaction is usually a touch screen tablet - the use of which is well known to the user - but can take different forms depending on the need. For example, the application can control the rotation of the model and zoom in to view details of interest to the investor, provide additional information in text form, or even allow the user to select the hologram to be displayed: the building at night, a particular area of it, for example an apartment.

Finally, the use of real time is possible in applications. The term real time refers to the fact that information is processed within a given time. Thus, the hologram can change content as soon as a particular predefined action is performed. For example, when an employee books a meeting room in the building online, the hologram placed in the lobby may greet the room and display it as reserved.
It is also possible to display in real time the flow of parts crafted in a factory, or for an electrician who has finished his installations to indicate this on the BIM file, thus displaying it on the hologram.
Our service for real-estate and construction companies
Whether you are a property developer, an architect, a local authority or other, Holusion has a real estate offer for you. If you have any questions, please contact us directly, via contact@holusion.com.
Need to rend our product for an exhibition ?
Our best solutions to display your 3D models in holograms
Rent it, just for the show, or buy it to bring it home
Made in France
Iris 22"
Iris 32"
Iris 75"

Starting:

2 000

€
w/o VAT

Starting:

4 500

€
w/o VAT

Starting:

23 000

€
w/o VAT

prefer to rent?

500

€
w/o VAT 3 days renting

prefer to rent?

1 750

€
w/o VAT 3 days renting

prefer to rent?

4 950

€
w/o VAT 3 days renting

1000 cd/m²
image full HD
49 x 29cm

1000 cd/m²
image full HD
70 x 39cm

2500 cd/m²
image 4k
165 x 92 cm

About
About
About
Our 3D models
Convert your BIM 3D models into holographic animations. It's our specialty.
Calculate by yourselves the cost of your content for projects under 10.000sqm
Explore
Improve
Upgrade

950

ex. VAT € per model

1.750

ex. VAT € per model

3.750

ex. VAT € per model

The bare necessity for exploration

An improved visualization

Upgrade your 3D simulation

Inclus :

Dynamic orbital view
Required data format: .ifc / .fbx / .obj / .3ds

Inclus :

All of "Explore" included
Dynamic transitions
Realistic renders

Inclus :

All of "Improve" included
Advanced screenwriting
Motion design
Dedicated art management
Rooms and flats in cutaway view
Ultra-HD rendering
Our administration tools
Control your hologram by yourself. Easy and stress free.
Thanks to our cloud solutions, enjoy remote control and an iPad application for interactive holograms.
Interactivity, reliability and easy updates.
Individual
Professionnal
Entreprise

Single model

Free

Recuring needs

125

€ w/o VAT/month 12 months commitment

Deployments

210

€ w/o VAT/month 12 months commitment

Autonomous offline management of your products

Online remote administration
10Go cloud storage included
1 to 4 displays in local management
iPad control
iPad included

Online remote administration
100Go cloud storage included
Up to 100 holographics displays in remote management
Interactive application included
iPad control
iPad included