EMOTION - INTERACTION - PERSONALISATION
These are three feelings that could feel the visitors of the Wearable Fashiontech Festival at the Gaîté lyrique from 9 to 14 February 2016. They lived the Smart Shopping Experience, imagined by Oney of the Banque Accord group. A shopping of the future course featured the latest digital innovation. Changing, this way of purchase is emphasizing the customer experience in the store. It makes you gain his loyalty and enhances the brand's image.
It is therefore in this unique course that Holusion spread two innovations : the connected home sensor and the holographic display of clothing. Holograms are beginning truly to integrate the landscape of the retail offering incomparable uses.
Which shopping experience for tomorrow ?
Major retail brands are aware of the drop in attendance in their store. So they are searching for solutions that will improve the image and the dynamics of their sakes area.
What is the customer looking for in his course ?

How to facilitate his purchase decision ?

Which course offer him according to his tastes, his desires ?
Brands have clearly understood it, they must now create a shopping experience. An experience which brings together : Smart cloves, a robotic assistance, and, of course : holograms !
Here are two experiences brought by Oney and Holusion :
CONNECTED HOME SHOWCASE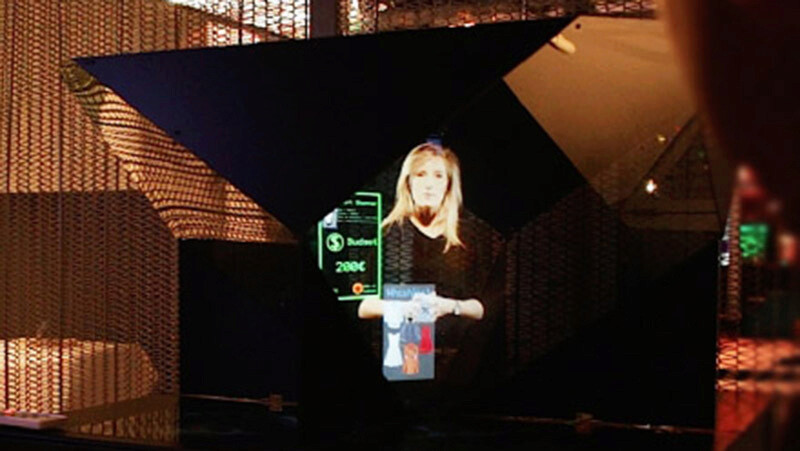 Upon his entry in the store, the customer can place his smartphone on a sensor. It is therefore identified and this is where the adventure begins : he can now interact with the entire store. He first mets the Focus hologram. It calls the customer by his name and shows a passport in suspension. It presents many informations of the customer : his favorite color, his measurements, the budget that he can afford...
HOLOGRAPHIC CLOTHING MERCHANDISER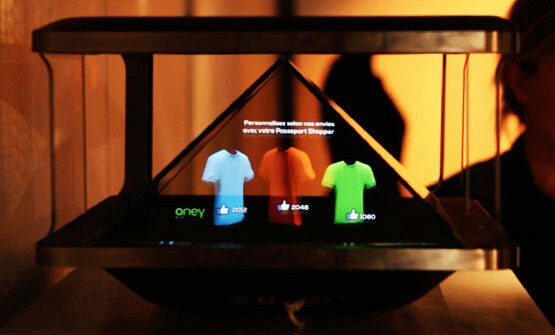 Which customer doesn't dream of coming into contact with clothing ? Here, he can place the price tag over a sensor. The article is then materialized inside the Prism. Several informations appear then : the story of the product, its place of manufacture, its price... The product also fits his preferences, recorded in advance from his entry in the store. The article therefore appears in other colors... If his choice yet isn't done, the customer can click on the likes of the net surfers next to the different models.
THEY WROTE ABOUT US : Les Echos - E-marketing.fr
Discover another experiment in store : the holographic sales table.